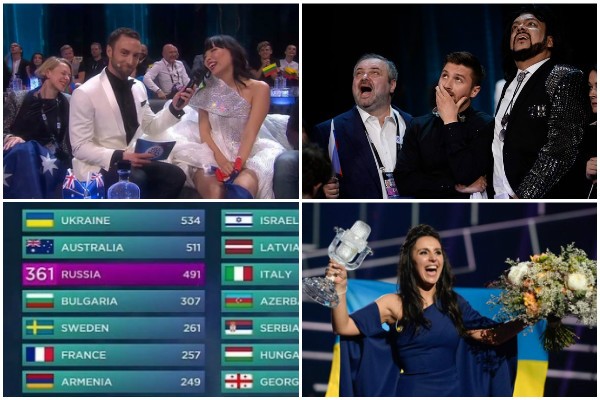 It's been said countless times already, but Eurovision 2016 marks the first time that the winner won neither the televote, nor the jury vote. Fans of Russia's Sergey Lazarev — the televote winner — want to throw out the jury. Retroactively. Fans of Australia's Dami Im — the jury winner — want an all jury vote. Naturally fans of Ukraine's Jamala think the present balance is just right.
The juries were introduced to reduce the effect of bloc voting, raise the quality of songs, and help Eurovision produce potential radio hits. To some extent they've done that. At the same time, I'll be the first to agree that the jury vote is at times both corrupt and incompetent.
National juries consist of just five people. Do they really deserve the same power as millions of voters? Especially with problem after problem, that we've seen year after year. Do FIVE music professionals really deserve the same power as MILLIONS of televoters? Plenty of folks think not.
Of course, the televote has its own flaws. It can easily be manipulated, particularly in smaller countries. And yes the voting can political. Incredibly political at times.
Despite all those complaints, we have to remember there is no perfect system. 
In my mind the fundamental problem is that Eurovision has a large number of incredibly good acts. In most years there is no act that is unambiguously better than all the others. There is no system to correctly select the "best" act because there is no best act. You can complain that your personal favourite did not win. But it's not reasonable to complain that the winner is not deserving of winning. Any of the top acts — that manage to strike a chord with televoters and jurors across borders and age and other demographics — are deserving of winning.
There is no perfect result.
It's a rare event to quote Winston Churchill on wiwibloggs, but let's do this.
"It has been said that democracy is the worst form of government except all the others that have been tried."
The current system in my mind is the closest thing we've come to something fair and balanced. Perhaps the best Eurovision voting system is the one that sucks the least. And that it holds our attention to the last second of the contest. The new system clearly accomplished the latter. Big time! And because of how it played out this year, it will do so going forward.
As to being better than the alternatives, the jury, as much as I disagree with it at times (Italy should have won last year!), counterbalances the televote with a thoughtful, professional measure of the acts. Mostly.
Of course, the optimum solution is to just give me the singular vote. Because clearly Slovenia was the best act this year!